100% protection from the external environment
With 100% protection from moisture, dust and UV penetration, the Chlorine Tablet Pouch Pack is excellent for export markets where heat and humidity may be an issue.
Being more compact to transport, the Pouches remove whole lorry loads of empty tubs and lids from the road and out of landfills.
Low waste disposal costs
Significantly reduce waste disposal costs when using our Pouches. Much of the disposal costs of conventional pots and lids come from contractors collecting bins that are filled with air. However, our Pouches can be packed flat so you can fit almost 10 times more packaging in the same size space.
Reusable and durable
Secure, user-friendly, and easy to open, our Chlorine Tablet Pouch Packs are tested be opened and closed hundreds of times without breaking, and there is no risk of misplacing your lids with our resealable pouches. The Pouches are also more impact resistant than regular pots and will not
crack or break if dropped.
Benefits of our Chlorine Pouch Packs:
UK-made, printed & packed
Pouches and the label are fully recyclable
Pouches use 75% less plastic than pots & lids
Pouches will reduce waste disposal costs and cut disposal frequency
Built-in tamper-evident packaging and re-sealable many hundreds of times
Pouches offer 100% protection from moisture, dust & UV unlike tubs & lids
Pouches are a flexible system and can be used as a refill where pots are still required
More drop resistance than pots & lids and will not crack or break or become separated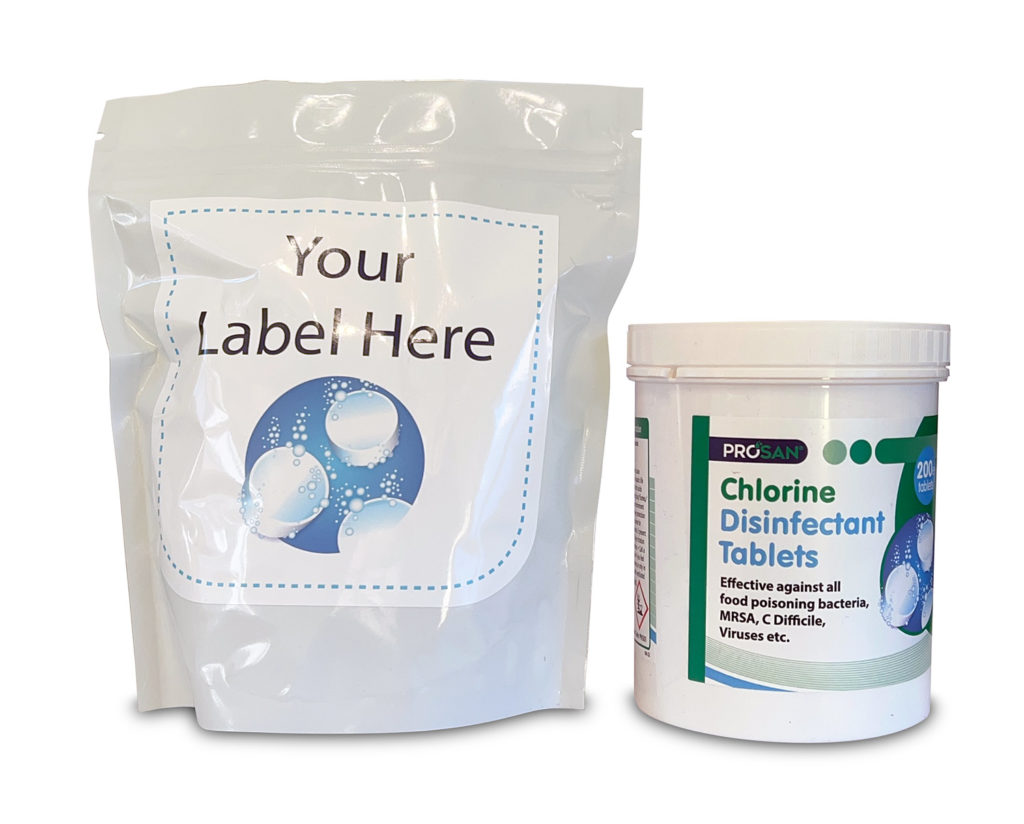 Developing a sustainable answer to chlorine packaging
In April 2022, the UK government introduced a Plastic Packaging Tax (PPT) to incentivise businesses to reduce the use of plastic long-term by using recycled materials in existing plastic packaging.
For a while, we have used 30% recycled plastic materials in our pots and lids, however, our Chlorine Tablet Pouch Pack goes dramatically further.
Developed over the last 2 years, the pouch pack system provides the tablets exceptional long-term stability and tamper evidence benefits.
Regulated & certified to the highest standards
Our Chlorine Tablets and Detergent Chlorine Tablets are supported under the EU Biocidal Products Directive and proposed UK HSE legislation. The following Certifications are available:
BS EN1677 – Norovirus
BS EN17126 – C. Difficile
BS EN1650 – Fungi & Yeast
BS EN13704 – Sporicidal Activity
BS EN1276 – Bactericidal Activity
BS EN13697 – Fungicidal Activity
BS EN1276 – Food Poisoning Bacteria
BS EN14476 – Coronavirus & Norovirus